Becoming a stripper demands more than just some pole-dance lessons and some selfies in the locker room. Stripping is a highly competitive sales job that requires you to hustle to sell your time and company in a highly stigmatized setting.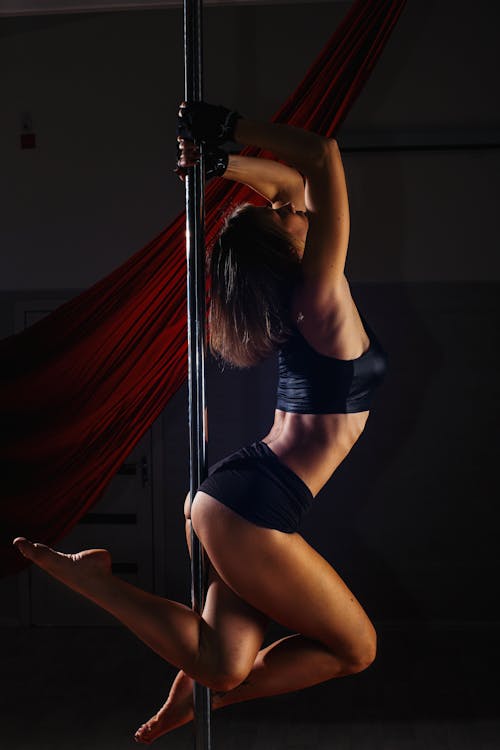 Becoming a stripper takes more than just having physical attributes. It requires a certain level of emotional, physical and mental strength to be able to handle the demanding environment of the job.
There are a few steps you can take if you are interested in becoming a stripper:
1. Excellent Physique And Confidence In Your Own Body
If you're thinking about a career as a stripper, it can help you to feel confident in your body and in front of an audience by developing a strong physical physique. Having said that, strippers can be any size or shape; what matters most is being at ease in one's skin and being able to engage with the audience.
2. Strong Self Confidence
Possessing a healthy dose of confidence is useful in any line of work, but it's especially crucial for anyone thinking about a career as a stripper. A strong sense of self-confidence can help you feel at ease and confident in your ability to connect with and engage an audience while performing on stage, which can be a challenging and vulnerable experience in and of itself.
3. Understand The Laws Of Stripping
Because legal requirements for strippers can vary by location, anyone thinking about entering the profession should familiarize themselves with the laws that govern it. It is possible that strippers in your area need to be licensed or registered before they can perform, and that there are rules and regulations in place regarding what they can do while on stage or in a private room.
Strippers may be classified as either independent contractors or employees, depending on the venue and the terms of their work, so knowledge of employment law is just as important as knowledge of the laws governing strippers. Taxes, benefits, and legal safeguards may all be affected.
Before performing, you should learn about the local laws and regulations that affect strippers, as well as the rules and policies of the establishment where you plan to work. If you are unsure about how the law affects your work as a stripper, you should consult an attorney.
4. Learn How To Dance
If you're thinking about a career as a stripper, you might want to consider taking dance lessons. Being able to perform in front of an audience and keep their attention through your dancing is a crucial part of the job. If you want to break into the stripping industry but aren't already a highly skilled dancer, you might want to take some dance classes or look for other ways to hone your moves.
There is a wide variety of dance forms to study, and the one(s) you choose to specialize in will be determined by your preferences and the demands of the performance space you plan to use. Strippers can choose from a wide variety of dance styles, including the more mainstream pole dancing, burlesque, and exotic dance.
Dance is a skill that can be honed in a variety of settings, including classroom instruction, online tutorials and videos, and the creation of original choreography to practice at home. If you have doubts or questions about your dancing, it's wise to get input from other dancers or experts in the field.
5. Become A Good Talker
Anyone thinking about a career as a stripper would do well to work on their communication and social skills. These would be essential for building rapport with the people watching you perform. There are a few things you can do if you want to become a stripper and you want to enhance your verbal communication skills:
You can hone your oratory abilities by giving speeches and presentations in front of an audience or by joining a group dedicated to improving orators' abilities.
You can improve your communication skills, including your ability to hold an audience's attention, by finding and taking advantage of opportunities to tell stories.
Watch your body language and other forms of nonverbal communication: Body language and other forms of nonverbal communication can be just as important as what you say when it comes to making an impression on others. You can improve as a communicator by paying attention to these details.
Consult others for guidance and feedback on your speaking skills if you have doubts or concerns; a mentor or public speaking coach are two good options.
Keep in mind that verbal skills are only one component of being a successful stripper; being physically fit, attractive, and able to connect with and engage an audience is also crucial.
6. Learn How To Market Themselves To Potential Customers
Depending on the setting and the intended clientele, a stripper's marketing efforts can take many forms. Here are a few promotion strategies that could be used for strippers:
Building A Strong Online Presence:
Establishing a solid online profile may involve making a personal website or social media account to advertise and promote one's work and services.
Networking With Other Strippers And Industry Professionals: 
Building relationships with other strippers and professionals in the industry can help you get advice and referrals, as well as connect you with potential clients.
Creating Promotional Materials:
Making flyers, business cards, and other promotional items that feature your work and contact information is one way to get the word out about your services.
Taking Advantage Of Online Platforms: 
Sites like OnlyFans and similar subscription-based services can help strippers reach and attract new customers.
Marketing oneself as a stripper can present unique difficulties and concerns, such as protecting one's privacy and projecting an appropriate image. You should give some serious thought to your marketing strategies and, if necessary, get the opinion of those more experienced in the field.
10 Male Stripper Songs Do Strippers Listen To
When it comes to male stripper songs, there is a wide range of popular music genres. Top 40s, pop and hip-hop songs tend to be the most frequently heard beats in clubs. But don't think that male strippers only listen to mainstream bops – they enjoy some classic rock and R&B tunes too! 
Here's our list of 10 male stripper songs strippers listen to:
"Pony" by Ginuwine

"I'm Too Sexy" by Right Said Fred

"Give It To Me Baby" by Rick James

"Let Me Clear My Throat" by DJ Kool

"Sex Machine" by James Brown 

"Maneater" by Hall & Oates

"Lapdance" by N.E.R.D

"Shake Ya Ass" by Mystikal

"Rock You Like a Hurricane" by The Scorpions

"Get Low" by Lil Jon & the Eastside Boyz
It's clear from this list that male strippers have eclectic taste in music, and that they aren't afraid to move their hips to some classic hits as well as new bops! In any case, these songs are all surefire crowd-pleasers that will have everyone in the club moving. So next time you're at a male strip show, make sure to request one of these 10 songs – the performers are sure to be impressed!
Regardless of what kinds of tunes they choose, it's clear that male strippers and their patrons share an appreciation for music that gets them up and dancing. So put on your dancing shoes, grab a few friends and head out to the nearest strip club for some good old-fashioned booty-shaking fun! You won't regret it.
Cheers!
Conclusion
It is important to keep in mind that being a stripper can be physically and emotionally demanding work, and it may not be suitable for everyone. It is important to carefully consider the potential risks and challenges before deciding to pursue this line of work.
By developing a strong understanding of the profession, making smart financial decisions and learning how to market themselves, strippers can be successful in their craft. Learning about the laws that govern their work will help ensure that dancers remain compliant with state regulations. 
Additionally, building an online presence and having a good marketing strategy is essential for any dancer looking to maximize their income potential. With the proper knowledge and skillset, strippers can make a profitable business out of dancing!
https://www.youtube.com/watch?v=LnvgU_EootY